Lopez, a successful 70s illustrator in New York, clearly faced racism. But it's unexplored in a film in thrall to fashion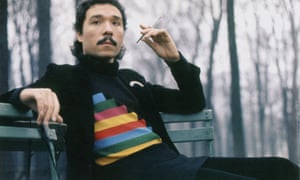 Documentaries about fashion are having a moment, yet despite all the acute detail and 70s flavour that we get in this one, it is oddly incurious about its subject's inner life, content merely to re-state the legend, and doesn't reach out all that much to the non-fashionista community.
Antonio Lopez was a brilliant Puerto Rican fashion illustrator whose drawing skill was admired and envied by David Hockney and Andy Warhol. He was also, by all accounts, a beautiful and charismatic man, a party animal, a superb dancer, a wonderfully generous friend, and a keen-eyed professional who launched the modelling careers of Jessica Lange, Grace Jones and Jerry Hall. He died of Aids in 1995.
People are queuing up in this film to praise him, and yet there was sadness and darkness in his career and perhaps in fashion generally. The film suggests that he left New York for Paris at the end of the 60s because of racism at American Vogue. But this important charge is not followed up. Then we learn, from the emotional testimony of late photographer Bill Cunningham, that when Lopez was gravely ill with mounting medical bills, his supposed friend and colleague Karl Lagerfeld refused to help. Then Oscar de la Renta stepped in and this was forgotten about.
So Lopez arguably faced a certain amount of prejudice and even cruelty, but these issues are finally passed over, because of the film's evident reluctance to criticise the fashion world. Everything has to be celebratory. Perhaps there is another more complex film to be made about Antonio Lopez.
Powered by WPeMatico