From Harry Kane's hair to John Stones' coy pose, we rate the Three Lions' lineup for their Marks & Spencer photoshoot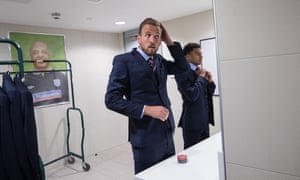 It is always curious to see a footballer in a suit, rather than his or her kit. Like seeing your teacher in jeans at the weekend or a dog when it gets wet, they always appear smaller than they are and just a bit … off.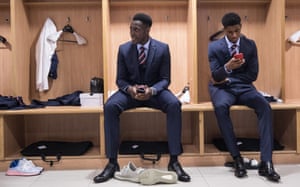 But as is tradition, the England men's team suited up for what is known in fashion circles as the Photoshoot of Hope, part of the official run-up to the World Cup in Russia, which starts on Thursday. They wore Marks & Spencer because they are just like you, but three-piece suits because they are not. (M&S has a long-running relationship with the England team.) Along with the casual blue chambray shirt, a silk striped tie and black leather brogues, the whole lot will cost you £413.
Navy is a good, dependable suit choice. If it is safe enough for Mark Zuckerberg to testify to Congress, then it is safe enough for Raheem Sterling on tiered photoshoot seating. A navy suit is apolitical, too: Barack Obama preferred blue suits, but so did David Cameron. Black is too funereal. Grey is too matrimonial. They are, it should be said, quite tight, a little too tight perhaps to contain their extraordinary bodies, the hopes and dreams of a nation and various tattoos.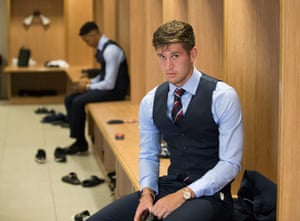 Still, it is worth remembering the three-piece has some A-list weight behind it. Harry Styles' new Gucci campaign features one. Jennifer Lopez wore one recently. David Beckham wore one to the royal wedding, except his was bespoke, from Dior Homme, and did not match.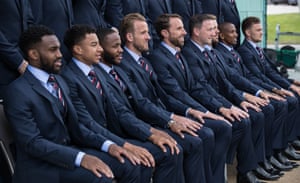 Some of the more haunting outtakes from the rest of the shoot include: Harry Kane ladling Osmo Shaper Maker on to his hair; Danny Welbeck and Marcus Rashford Snapchatting in the changing room; and a jacket-less John Stones looking more surprised than he should, given the photoshoot was choreographed.
Powered by WPeMatico